Volunteer Opportunities
Volunteer Opportunities
One of Temple Israel's main focuses is tikkun olam (repairing the world). Below are several volunteer opportunities and collection drives that are offered for members to perform mitzvot.
Hilltop Community Worship Center Free Meal Program
Serving in the Community Kitchen: The Kitchen continues to serve to-go meals every Saturday. Tasks may include: pulling food & inventory from Pantry; food prep; to-go bag prep; packaging meals to go; caringly connecting with the community guests to get their "order" and other needs; handing out meals; taking supply inventory and cleaning and sanitizing the space.

Sign up at the link below. The experience will warm you as well as the guests. Sign up HERE!
Jordan's Crossing
Jordan's Crossing is a resource center on the west side of Columbus for those impacted by substance use and homelessness. Temple Israel congregants will bake 10 large challahs one Friday a month at Simply Special Catering. Two congregants will then deliver the challah and serve it at Jordan's Crossing.
Click here to sign up for baking or delivery!
Social Justice Team
Temple Israel is committed to Tikkun Olam, the repair of our broken world. We strive to guide our congregation's social justice work through education, programming, direct service opportunities, and advocacy within our Central Ohio community and beyond. We have several different organizations that we are working with.
Click here to see and sign up for volunteer opportunities that we are offering this year. The co-chairs of the projects will reach out to you by email for the next steps in getting involved.
Mitzvah Angels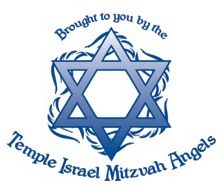 Our Temple Israel community has proven time and again that it is a community of givers, a community of doers. When there is a need in our broader community or within our temple, our Temple Israel family has stepped in to perform acts of generosity and selflessness. There are, indeed, mitzvah angels among us!
We have many opportunities to perform mitzvot within our Temple Israel community, as well as in our Columbus community. Show your spirit of generosity and make a difference in repairing the world around us. Click here to view and sign up for available volunteer opportunities.
Fri, September 29 2023
14 Tishrei 5784
Fri, September 29 2023 14 Tishrei 5784