Volunteer Opportunities
Volunteer Opportunities
One of Temple Israel's main focuses is tikkun olam (repairing the world). Below are several volunteer opportunities and collection drives that are offered for members to perform mitzvot.
Volunteers Needed for High Holidays!
Take your Holidays just a little HIGHER – by serving as one of our volunteer ushers, greeter, wayfinding, and welcoming your fellow community members.
Sign up via our SignUp Genius link.
Mandatory High Holiday Security Briefings for greeters and ushers on Sundays, September 15 or 22.
Meeting at 9:30 AM at the JCC. Choose the date which best suits you and come learn the new details for this year's observances at the JCC.
Hilltop Community Worship Center Free Meal Program
Two - three representatives from Temple Israel help every Wednesday evening from 5:30 to 8:00 PM. Volunteer duties include greeting people as they come in, serving meals, speaking to congregants and clean up.

Sign up at the link below. The experience will warm you as well as the guests. Sign up HERE!
Mitzvah Angels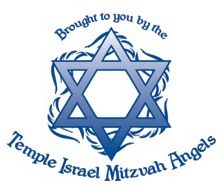 Our Temple Israel community has proven time and again that it is a community of givers, a community of doers. When there is a need in our broader community or within our temple, our Temple Israel family has stepped in to perform acts of generosity and selflessness. There are, indeed, mitzvah angels among us!
We have many opportunities to perform mitzvot within our Temple Israel community, as well as in our Columbus community. Show your spirit of generosity and make a difference in repairing the world around us. Click here to view and sign up for available volunteer opportunities.
Collection Drives
Jewish Family Services
JFS is asking for donations to assist new immigrants as they prepare to work at jobs in the Columbus area. Here is a list of the most essential NEW items:
- Soap
- Deodorant
- Body spray (for both men and women)
- Toothbrushes
- Toothpaste
- Menstrual products (both pads and tampons)
You can take your donations directly to JFS or bring them to the JCC and place them in the marked boxes at the back of room 218.

Broadleigh Elementary School
We are collecting school supplies and backpacks for the students at Broadleigh Elementary School. You can bring your donations to services on Friday night and place them in the marked boxes at the back of room 218.
Tue, September 24 2019
24 Elul 5779
Donate to the Shuvu Building Campaign Make or Pay your Pledge Here
Want more information?
Tue, September 24 2019 24 Elul 5779